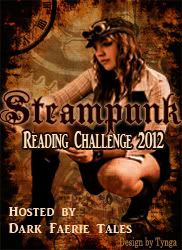 For the record, this challenge is entirely
jen7waters
's fault. I was reading her blog last night, and she had this post about the challenges she was going to enter... and this challenge was mentioned there. I started to realize I had a few steampunk books in my shelves, then I realized I had more books than I initially thought, and then I realized I might buy a few more this year. So I might as well cave in and sign up for this challenge, to make me actually read the books instead of just buying them.
This challenge is hosted by
Dark Faerie Tales
. The sign-up post is
here
and it contains a couple of links to get you started on what steampunk is, exactly. The sign-up post and
this blog
have a compiled list of a few steampunk works.
I'm going to choose the "Gaslight" level (6 books), since I own at least as many steampunk books as that level, but I might upgrade the reading level later on. The books I'm planning to read are:
Steampunk! - An Anthology of Fantastically Rich and Strange Stories, anthology edited by Kelly Link and Gavin J. Grant
The Map of Time, Félix J. Palma
The Court of the Air, Stephen Hunt
Pavane, Keith Roberts
Vaporpunk - Relatos steampunk publicados sob as ordens de Suas Majestades, Brazillian anthology edited by Gerson Lodi-Ribeiro and Luís Filipe Silva
Soulless, Gail Carriger
Steamed, Katie MacAlister
I may read the sequels to the above books whenever they exist. With a little luck, I might also read this year the following books, which are sequels to steampunk books I've already read:
Clockwork Prince, Cassandra Clare (and I'd like to re-read Clockwork Angel)
Goliath, Scott Westerfeld
The Subtle Knife, Philip Pullman
The Amber Spyglass, Philip Pullman
And this is my "wishful thinking" list - the books I'd like to explore, but probably won't have time to, this year:
The Mammoth Book of Steampunk, anthology edited by Sean Wallace
Dead Iron, Devon Monk
Tin Swift, Devon Monk
The Iron Duke, Meljean Brook
Heart of Steel, Meljean Brook
The Iron Wyrm Affair, Lilith Saintcrow
Corsets & Clockwork: 13 Steampunk Romances, anthology edited by Trisha Telep
All Men of Genius, Lev A.C. Rosen
The Girl in the Steel Corset, Kady Cross
The Girl in the Clockwork Collar, Kady Cross
The Greyfriar, Clay & Susan Griffith
The Rift Walker, Clay & Susan Griffith
Phoenix Rising, Philippa Ballantine and Tee Morris
Boneshaker, Cherie Priest
Clementine, Cherie Priest
Dreadnought, Cherie Priest
Ganymede, Cherie Priest
Steampunk, anthology edited by Ann VanderMeer and Jeff VanderMeer
Steampunk II: Steampunk Reloaded, anthology edited by Ann VanderMeer and Jeff VanderMeer
So enough of drooling over these titles, I'm going to sign up now.