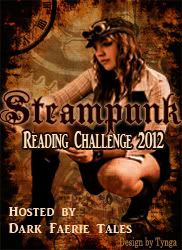 This challenge was hosted by
Dark Faerie Tales
. The sign-up post was
here
and it contained a couple of links to get you started on what steampunk is, exactly. The sign-up post and
this blog
have a compiled list of a few steampunk works. You could post your reviews
here
and everyone's completed lists can be consulted
here
.
Books read for this Challenge
I chose the "Gaslight" level (6 books), so I would say I completed this challenge since I read 7 books. I wish I had read more, since many steampunk books I had in my TBR pile still remain there. I am so undisciplined, lol. But I kinda lost my motivation to read for this challenge mid-year, so these last three months I didn't even read anything for the challenge. Too bad, but maybe I'll read these books next year. I don't plan to sign up to any challenge, but maybe I'll make my own personal challenge.

The ones left behind:
The Map of Time, Félix J. Palma
The Court of the Air, Stephen Hunt
Pavane, Keith Roberts
Vaporpunk - Relatos steampunk publicados sob as ordens de Suas Majestades, Brazillian anthology edited by Gerson Lodi-Ribeiro and Luís Filipe Silva
Steamed, Katie MacAlister

The ones I wanted to read:
Clockwork Prince, Cassandra Clare (this one depended on this book being released in my country, and since it didn't... but I'm so dying to read it)
The Subtle Knife, Philip Pullman
The Amber Spyglass, Philip Pullman
The ones in my wishlist:
The Mammoth Book of Steampunk, anthology edited by Sean Wallace
Dead Iron, Devon Monk (and the following book[s])
Heart of Steel, Meljean Brook (and the following book[s])
The Iron Wyrm Affair, Lilith Saintcrow (and the following book[s])
Corsets & Clockwork: 13 Steampunk Romances, anthology edited by Trisha Telep
All Men of Genius, Lev A.C. Rosen
The Girl in the Steel Corset, Kady Cross (and the following book[s])
The Greyfriar, Clay & Susan Griffith (and the following book[s])
Phoenix Rising, Philippa Ballantine and Tee Morris (and the following book[s])
Boneshaker, Cherie Priest (and the following book[s])
Steampunk, anthology edited by Ann VanderMeer and Jeff VanderMeer
And if I took a peek at my Goodreads wishlist I might find so much more steampunk books, but this is a big enough list, so I'll leave it at that.